Tinklo įranga
Programinė Įranga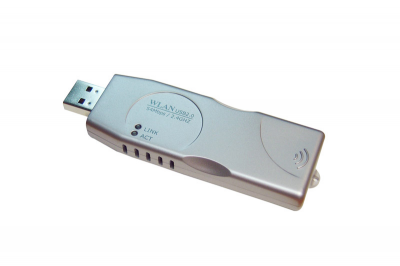 | | |
| --- | --- |
| Prekės kodas | CT-WN4322Z |
| Pavadinimas | WLAN USB |
| Aprašymas | 802.11g WLAN USB Stick |
The CT-WN4322Z WLAN USB Stick is an 802.11g wireless LAN device
working under 2.4GHz bandwidth, running at a speed of up to 54Mbps. Using IEEE 802.11g wireless LAN technology, it provides a speed five times faster than IEEE 802.11b technology. The CT-WN4322Z supports USB2.0. With Plug & Play technology, it allows users easily enable their computer to provide wireless connection through the USB port.
The CT-WN4322Z is an 802.11b/g WiFi certified device. It can smoothly communicate with other WiFi compatible devices. As for security, it also supports up to 256-bit WEP, AES, WPA, and WPA2 level securities
---
Features
* WiFi certified
* USB2.0 interface supports data rates up to 12Mbps full speed and 480Mbps high speed
* Enterprise-class security supporting WPA2
* Superior transceiving range and throughput
* High speed data rate of up to 54 Mbps. Data rate is five times faster than the existing 802.11b
* RoHS compliant
* WIFI Multimedia (WMM) supported. WMM is a component of the IEEE 802.11e wireless LAN standard for quality of service (QoS).
http://www.comtrend.com/index.php?module=products&op=show&sn=63