Tinklo įranga
Programinė Įranga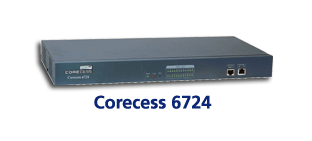 | | |
| --- | --- |
| Prekės kodas | Corecess 6724-AC |
| Pavadinimas | DSLAM |
| Aprašymas | 24-port 50P Champ SHDSL, 1-port RJ45 10/100M, w/Single AC power |
Key Features & Benefits



Optimal SHDSL System


CO equipment of 24 SHDSL lines, in which routing functions are supported.
Provides symmetric data rates of up to 2.3 Mbps.
Provides up to 8 Km reach.
Minimum initial investment cost with 24 line modules.
Service build-up by 24 lines to go with an increase in subscriber base.
Flexible network configuration with fast Ethernet up-link.
Simple and flexible network management with an SNMP based management system.




Maximum Global Environment Compatibility




Compliant with ITU-T G.991.2 (G.SHDSL)
Operable over UTP, CPEV, TIV, SH and Interphone cable.




Improved Function for High-Speed Service


DHCP Server/Client function.
IP routing and filtering.
Various Management & Security functions.
NAT support.
PPP termination.
IGMPv2 Snooping.
VLAN.




Advanced Features for MTU, MDU and MHU




Port enable/disable functions for each line.
Maximum connection rate setting for each line.
Packet forwarding enable/disable functions between each line.
IP/MAC filtering functions for each port.