Tinklo įranga
Programinė Įranga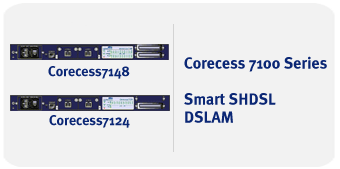 | | |
| --- | --- |
| Prekės kodas | Corecess 7124-AC |
| Pavadinimas | DSLAM |
| Aprašymas | CC 7124 chassis,SHDSL (1 X 24-port 50P Champ SHDSL, 2-port uplink option slot); Single AC power,AC power cord, console cable, ma |
Key Features & Benefits



Optimized SHDSL System

24/48 port SHDSL line aggregating DSLAM equipment with intelligent IP functions.

P (100 Base-Tx, 100 Base-Fx) uplinks module based plug-ins

Provide maximum data rates up to 2.3Mbps symmetric using 2 wires.

Provide maximum data rates up to 4.6Mbps symmetric using 4 wires.

AC or DC power options.

Temperature hardened to operate between -40 and +65 C.

Simple and flexible network management with a SNMP based Management system.

High performance packet processing for high end multimedia services.

Maximize Global Environment Compatibility

Compliant with ITU-T G.991.2, G994.1
Operable over UTP, CPEV, TIV, SH and Interphone Cable.

Improved Functions for Triple Play Service

DHCP Filtering.
IP Filtering.
Various Management & Security functions.
IGMP Snooping.
VLAN support (IEEE 802.1q VLAN tagging)
Class of Service (CoS) support with IEEE 802.1p for QoS guarantee
Max. 8 PVCs per port and ATM traffic management for triple play service at the ATM layer

Advanced Features for Telco, MTU, MDU, MHU environments

Port enable/disable function for each line.
Maximum connection rate setting for each line.
Packet forwarding enable/disable function between each line.
IP / MAC filtering function for each port.
Multi-port uplink options with Daisy chain feature

Various Interfaces supported

2 x 10/100 Base TX
2 x 10/100 Base FX

Applications

High speed symmetric service with long distance connectivity .

Enterprise broadband services launched from CO or RT for enhanced voice and data services.

Video and data multimedia services in high-rise residential buildings from a basement/telephone room.

Small, scalable DSL deployment by CLEC's in Telco CO co-locations where 24-48 ports are needed.

Data services, or data and video multimedia services applications.