Tinklo įranga
Programinė Įranga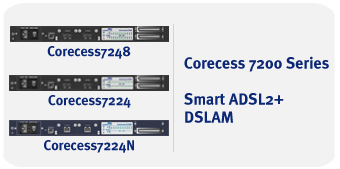 | | |
| --- | --- |
| Prekės kodas | Corecess 7224-AC |
| Pavadinimas | DSLAM ADSL2+ |
| Aprašymas | CC 7224 chassis, 24x ADSL2+ (2 X 24-port 50P Champ ADSL(Annex A)/PSTN, 2-port uplink option slot); Single AC power,AC power cord |
Key Features & Benefits



Optimized ADSL2+ System

24/48 port ADSL2+ line aggregating DSLAM equipment with intelligent IP functions.

IP (100 Base-Tx, 100 Base-Fx) uplinks - module based plug-ins.

Integrated POTS splitters in 7224 (24 port) model.

Provide maximum downstream data rates up to 24Mbps.

AC or DC power options.

Temperature hardened to operate between -40 and +65 C.

Simple and flexible network management with a SNMP based Management system.

High performance packet processing for high end multimedia services.

Maximize Global Environment Compatibility

Compliant with ANSI T1.413 issue2.
Compliant with ITU-T G.992.1, G992.2, G992.3, G992.4, G992.5 Annex A/B/C, G994.1
Operable over UTP, CPEV, TIV, SH and Interphone Cable.

Improved Functions for Triple Play Service

DHCP Filtering.
IP Filtering.
Various Management & Security functions.
IGMP Snooping.
VLAN support (IEEE 802.1q VLAN tagging)
Class of Service (CoS) support with IEEE 802.1p for QoS guarantee
7 PVCs per port and ATM traffic management for triple play service at the ATM layer

Advanced Features for Telco, MTU, MDU, MHU environments

Port enable/disable function for each line.
Maximum connection rate setting for each line.
Packet forwarding enable/disable function between each line.
IP / MAC filtering function for each port.
Multi-port uplink options with Daisy chain feature

Various Interfaces supported

2 x 10/100 Base TX
2 x 10/100 Base FX

Applications

Remote outdoor cabinets (JWI's, DLC, etc.) in Telco networks for DSL overlay.

Residential broadband services launched from outside the central office, including video and data.

Video and data multimedia services in high-rise residential buildings from a basement/telephone room.

In-room data and/or VoD/broadcast video in hotels or similar.

Small, scalable DSL deployment by CLEC's in Telco CO co-locations where 24-48 ports is needed.

Data services, or data and video multimedia services applications.