Tinklo įranga
Programinė Įranga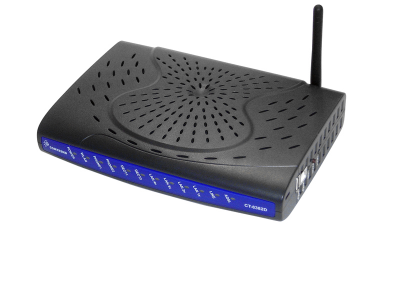 | | |
| --- | --- |
| Prekės kodas | CT-6382D |
| Pavadinimas | ADSL2+ modemas |
| Aprašymas | ADSL2+ VoIP WLAN IAD |
Comtrend¡¦s CT-6382D is a powerful DECT Integrated Access Device
(IAD), providing predictable, real-time, toll-quality voice over the Internet.
The CT-6382D is for ADSL2/2+ over PSTN. It is designed for residential and business users who need to integrate ADSL2/2+, DECT, WLAN and VoIP technologies. With ADSL2/2+ broadband technology, the CT-6382D offers users easy access to the Internet via WLAN or Ethernet, and provides VoIP via standard analog phones.
The CT-6382D allows calls to be routed to anywhere in the world-significantly reducing or eliminating long distance charges. You can even make phone calls when your PC is turned off. Moreover, DECT base-station provides a robust and reliable solution for wireless phone calls over VoIP. The CT-6382D supports policy based QoS on layer 3, which provides high quality voice service. It also provides a solution for all your network and telephony needs in one integrated unit, which reduces space requirements, and the cost of hardware and cabling. This makes CT-6382D the most cost effective solution for your application.
---
Features
* ADSL2/2+ VoIP and Router Integrated
* Supports 2 DECT channels and up to 5 handsets
* Integrated 802.11g AP (backward compatible with 802.11b)
* Supports life line: PSTN alive when power off
* Supports emergency call
* Supports Quality of Service (QoS) for voice
* Supports caller ID presentation and restriction
* Supports call hold
* Supports call waiting
* Supports call forwarding
* Supports call transfer
* Supports 3-way conference
* Supports Direct number dialing
* Remote administration and automatic remote firmware upgrade and configuration
* Supports VPN Pass-Through
* Supports parental control
http://www.comtrend.com/index.php?module=products&op=show&sn=55