Tinklo įranga
Programinė Įranga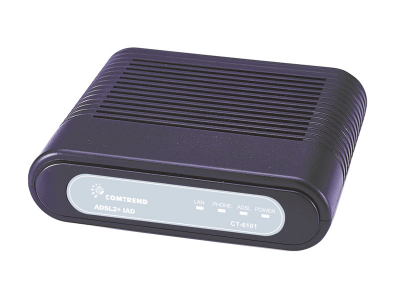 | | |
| --- | --- |
| Prekės kodas | CT-6101 |
| Pavadinimas | ADSL2+ modemas |
| Aprašymas | ADSL2+ VoIP WLAN IAD |
Comtrend¡¦s CT-6101 is a single port VoIP Integrated Access Device
(IAD), providing predictable, real-time, toll-quality voice over the Internet.
The CT-6101 is for ADSL2/2+ over PSTN. It is designed for residential and business users who need to integrate ADSL2/2+, and VoIP technologies. With ADSL2/2+ broadband technology, the CT-6101 offers users easy access to the Internet via Ethernet, and provides VoIP via standard analog phones.
The CT-6101 allows calls to be routed to anywhere in the world ¡V significantly reducing or eliminating long distance charges. You can even make phone calls when your PC is turned off. The CT-6101 supports policy based QoS on layer 3, which provides high quality voice service. It also provides a solution for all your network and telephony needs in one integrated unit, which reduces space requirements, and the cost of hardware and cabling. This makes CT-6101 the most cost effective solution for your application.
---
Features
* ADSL2/2+ VoIP and Router Integrated
* Supports life line: PSTN alive when power off
* Supports emergency call
* Supports Quality of Service (QoS) for voice
* Supports caller ID presentation and restriction
* Supports call hold
* Supports call waiting
* Supports call forwarding
* Supports call transfer
* Supports 3-way conference
* Supports Direct number dialing
* Remote administration and automatic remote firmware upgrade and configuration
* Supports VPN Pass-Through
* Supports Day-time parental control
http://www.comtrend.com/index.php?module=products&op=show&sn=56